Jamaaladeen Tacuma "This Room of Love" Solo Performance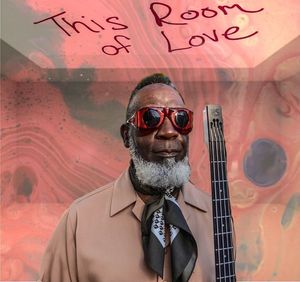 This Room of Love" a new exciting solo musical program from bassist Jamaaladeen Tacuma Presented at Moers Festival 2021 to rave reviews from the European Music Media. 
Jamaaladeen revisits his compositional repertoire with new arrangements for solo bass.  This new work creates an atmosphere of positivity, light and love for humanity that uplifts the spirit and inspires peace,  taking the audience on a journey through a low end sound landscape.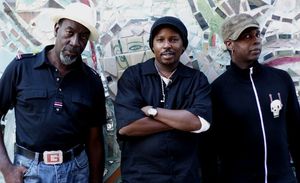 A brief history of the freqs…

The birth of the FREE FORM FUNKY FREQS intertwined with the untimely death of Tonic, the legendary underground center for jazz, rock performance and experimental music in lower Manhattan. In its waning days a number of performances were commissioned from artists associated with the venue. Enter Weston, whose called two long time friends to share the stage. Due to traveling and production circumstances, the trio had not played a single note together. The success of this spontaneous performance at Tonic came as a surprise and revelation to the members of the trio. What started as an impromptu gig, now begged further consideration. Shortly thereafter, Weston invited Reid and Tacuma to come to the rhythm section's native Philadelphia, playing the underground haven, Tritone. Once again with no prior planning, the three took the stage and had yet another remarkable evening.

Willing to take a risk, Reid booked time at a little known but professionally appointed studio near his home in Staten Island.

These three musical innovators went into the studio wanting to explore the organic energy and excitement they felt from the live performances. What you hear on this recording is their third performance. Electrified by Reid's thought and riff provoking guitar playing, matched with Tacuma's inventive bass work and locked down by Weston's deep in the groove kit work, "Urban Mythology Vol. One" is a chapter in its own book.

Is it the reinvention of the power trio, or is it a peak into the future or perhaps it's the present being fast-forwarded? That is for you to decide, but either way, it's a journey worth taking.

Vernon Reid is no stranger in the circles of rock and funk, having been a crucial member of the rock outfit Living Colour and his "instrumental" group Masque. Vernon has also played with legends including Public Enemy, Carlos Santana, James "Blood" Ulmer, Mick Jagger and many, many others. Jamaaladeen Tacuma, veteran of Ornette Coleman's project of the seventies, "Prime Time" and has traveled extensively, playing with musicians from all around the world. Calvin Weston, a bandleader in his own right, has played alongside of Billy Martin (of Medeski Martin and Wood) Tricy, Eyvind Kang, Derek Baily, Mark Ribot and James Carter. Recently, he as been involved in playing on several movie soundtracks like "Get Shorty", and joined John Lurie's Lounge Lizards.
Facebook Page:http://www.facebook.com/freeformfunkyfreqs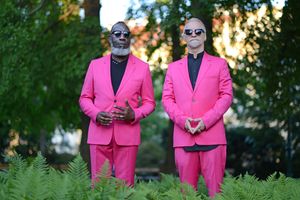 When it comes to pure musical excitement and energy, GEMINI GEMINI fits that description. GEMINI GEMINI the eclectic and exciting duo between Vienna's own homeboy saxophonist and composer Wolfgang Puschnig, and Philadephia's own electric bass guitarist, composer and producer Jamaaladeen Tacuma. This duo is truly a magnificent duo of two of the most closest friends on and off the world stage. Yes they have traveled the world many times over bringing their good vibrations of composed and improvised music to many. And after all of this moving around the planet, these two wonderful artist still feel the warmth and eagerness of the audience at one of their concerts. Wolfgang and Jamaaladeen share a rich history of musical bliss. They have worked with the world famous Korean group Samul Nori, vocalist Linda Sharrock, Ornette Coleman, Carla Bley and a host of groundbreaking creative musical artist [...] with the complete and sincere intention of bringing a musical smile to your face" (J.T.)
Coltrane Configurations

I once heard from a very famous Philadelphia saxophone player that once they observed John Coltrane reading a novel book and practicing on his saxophone at the very same time. This saxophone player from Philadelphia and John Coltrane were close friends and shared many musical stories. When I heard that about John Coltrane, I was amazed that one could be so open and receptive to a higher level of conciousness to attempt to do both of these task at one time. Today they call it multi-tasking and still not everyone can do it. I was already interested in John Coltrane the musician and his music, but to find out those little finer points about his life was so rewarding for me to know. John Coltrane is the perfect example of a musical artist who was not satisfied with just being a musical artist. Of course he was a great composer who wrote some of the most complex and interesting musical works that exist on the planet today. It is important for me in my life right now to continue to explore the musical minds of these greater musicians and with John Coltrane there is no exception. I am happy and proud to be a part of the Philadelphia legacy of musical artist who have lived, worked, performed and died in this so called city of Brotherly Love. In philadelphia at least once a month I ride past the house that John Coltrane lived in and also had the opportunity to do a small concert just outside of his house. I even went inside his house which I immediately got a warm musical feeling. There is so much that I can say about John Coltrane and his music, but for those who know him and his music, there is an ongoing love affair that continuously grows and for those who are just getting to know John Coltane for the first time it is like a new born baby coming into the realization of a real and convincing musical sound. COLTRANE CONFIGURATIONS is a project of mines that I pray will follow in the tradition and the spirit of John Coltrane's music. It is always my honor to pay tribute to one of music's giants and spiritual human being. That is John Coltrane - a love truly supreme
Brotherzone

Jamaaladeen Tacuma, Jean-Paul Bourelly, Daryl Burgee and Wadud Ahmad, assembled together, make up the most interestingly progressive musical experience this side of the planet Mars, known as BROTHERZONE. This funky band of spirit-soul brothers pushes the music from yesterday into today. Drawing on the sounds of soul, funk, jazz , rock, ambient poetics and the vibrations of life, BROTHERZONE creates a powerful musical tapestry. Come taste a listen!
Flavors of Thelonious Monk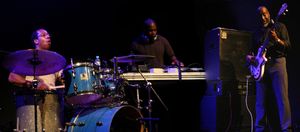 Monk was one of those rare genius in Jazz. He was a complete innovator of his instrument the piano and a great composer. He took what already was there in terms of musical ideas and made those musical ideas transcend rhythm, time and space. During the height of Monk's career other musicians of that era thought of his music as strange but positively attractive. For bassist/producer Jamaaladeen Tacuma Monk's musical legacy has inspired him to explore what was going in inside of Monk's musical head. "The Flavors of Thelonious Monk" is a project first initiated with Jamaaladeen Tacuma and Wolfgang Puschnig with their duet group Gemini Gemini. Jamaaladeen Tacuma later experimented with this concept and took it a step further incorporating a quartet with pianist Yoichi Uzeki drummer Tim Hutson, and Soundscape artist DJ Logic. "The Flavors of Thelonious Monk" is pleased and honoured to take those classic Monk compositions and twist, shape them with grooves that can relate to our present day audience. With Jamaaladeen laying those infectious bass foundations, Tim Hutson keeping the groovy time, DJ Logic creating atmospheric love, and Yoichi Uzeki accepting Monks spirit within, these concerts will leave their audiences with a satisfying, exciting sense of respect for Thelonious Monk and his present day interpreters.