Jamaaladeen Tacuma's Dirt Road Xperience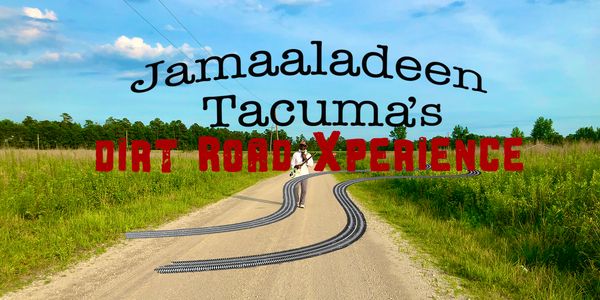 THE DIRT ROAD XPERIENCE: RENOWN BASSIST JAMAALADEEN TACUMA IN RESIDENCE IN WHITEVILLE, NC FEBRUARY 16 — MARCH 10, 2022
Jamaaladeen Tacuma, the American free jazz bassist, composer, and interdisciplinary artist whose work with Ornette Coleman during the 1970s and 1980 put him on the international map, is tracing his own origin story with a residency project he is calling The Dirt Road Xperience. To support the composition of a new musical suite, Tacuma will reflect on his career arc and musical journeys while revisiting the stomping grounds of his youth—the winding back roads of Whiteville in Columbus County, NC. 
Tacuma's own artistic biography parallels the Carolina origins of important nationally- and internationally-acclaimed musical talents including bassist Kim Clarke (also from Whiteville), Graham Haynes (his Greensboro roots), and the geographic arcs of Percy Heath, Nina Simone, Max Roach, George Clinton, Maceo Parker, Paul Robeson; not to mention the iconic individuals known to the world as Dizzy, Monk, and Coltrane. Tacuma is the grandson of Whiteville's own Luther and Bertha Hill. He spent his summers in Whiteville working on sharecropper families' tobacco farms while also discovering his passion for his instrument, the bass guitar; having experiences that shaped him into the man and musician he is today.
During the residency, Tacuma will set up a combination art gallery, music studio, and design installation space at 611 South Madison Street in downtown Whiteville from February 16 through March 10. During this period, the public will be able to stop by to meet the artist and experience his multifaceted creativity. The public is also invited to join Tacuma's Xperience by attending one or more from a series of free performances, workshops, and discussions in Whiteville and Charlotte . 
Tacuma will be joined during the residency by award-winning videographer and Apollo Theater sound engineer Gregg Mann, who will be documenting the entire residency for posterity. Mann brings his wealth of over 25 years in the music industry to the project. He has worked with Ornette Coleman, Alicia Keys, Gladys Knight, John Legend, Eryka Badu, and many other significant artists. For the last 10 years, he has been working in the independent film community as a director and editor.
 
The Dirt Road Xperience is made possible with the support of Jazz Road, a national initiative of South Arts, which is funded by the Doris Duke Charitable Foundation with additional support from The Andrew W. Mellon Foundation. South Arts awarded $2 million in grants in October 2021 to support jazz musicians through the Jazz Road initiative. The individual grants, which ranged from $24,700 to $40,000, were delivered to 52 musicians to support a wide variety of creative residencies.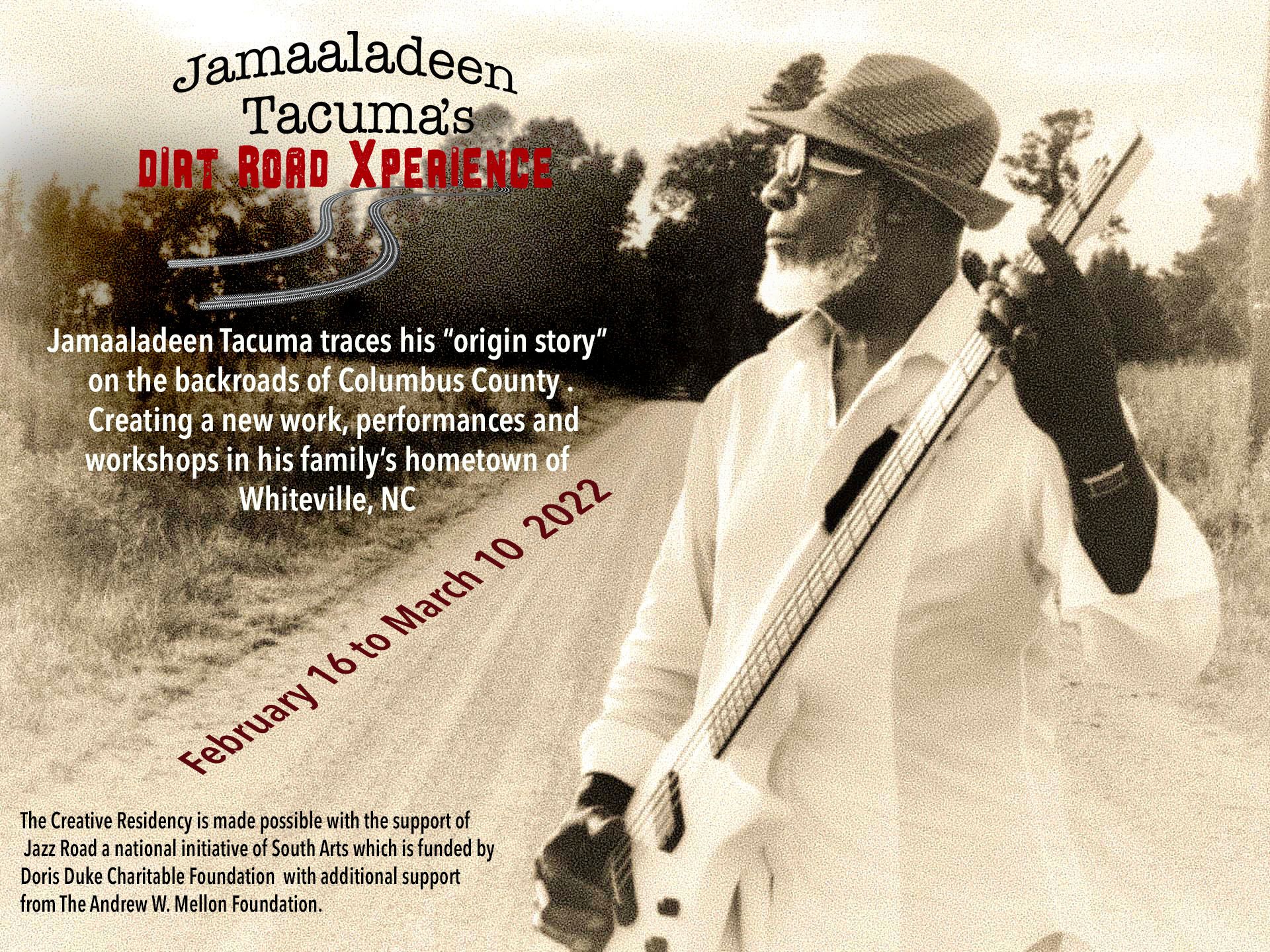 Jamaaladeen Tacuma's Dirt Road Xperience: Free Public Events
February 17, 2022 
Welcome Party at Sophie's Cafe & Bistro, 616 S Madison St, Whiteville, NC 28472; 6:00pm – 8:00pm. Enjoy coffee, tea, and sweets and hear from Jamaaladeen and family members about their history, music, participation in the Great Migration, and how they've maintained ties between the North and the South. Special guests present will include author and family historian Joseph T. Jones, Craig Woolard of The Embers, music historian Choci Gray, Author and Storyteller Marian Nance. A DJ will spin Jamaaladeen's music. This event will also be live streamed. RSVP at Eventbrite https://www.eventbrite.com/e/jamaaladeen-tacumas-dirt-road-xperience-creative-residency-meet-greet-tickets-246477239057
February 26, 2022
Jamaaladeen Tacuma Quartet in Concert at The Chef & The Frog, 607 S Madison St, Whiteville, NC 28472; 8:00pm – 10:00pm. Live performances of works from Tacuma's repertoire of groove-oriented original compositions and jazz standards that feature his facile and dynamic bass lines; with Rodney Smith (guitar), Richard Bradford (drums), George Freeman (keys), and Kia Norton (sax). Sets at 7pm and 8pm. The Chef and The Frog Table Reservation : 910-640-5550  
March 1, 2022 
Music Workshop: Music & The Human Experience - Harmolodic Gems at Southeastern Community College, 4564 Chadbourn Highway, Whiteville, NC 28472; 6:00pm – 8:00pm. Aspiring musicians are invited to explore techniques and learn the histories behind the nuances of jazz and other American music that has origins in the rural South. Tacuma will discuss music as a human experience, improvisation as a way of life, and introduce Ornette Coleman's harmolodic concepts. The event will also be live-streamed. Please Register at Eventbrite . https://www.eventbrite.com/e/jamaaladeen-tacuma-music-the-human-experience-masterclass-workshop-tickets-246818951127
March 5, 2022
Tacuma and Friends at Goodyear Arts, 301 Camp Rd #200 Charlotte NC 28206 7:00 PM to 8:30 PM. The lineup for this live performance event includes Jamaaladeen Tacuma (bass) with North Carolina artists Braxton Batemen (trumpet), Butler Knowles (bass), Malcolm Charles (drums), and Eric Mullins (improvisational dance). Reservation information will be announced shortly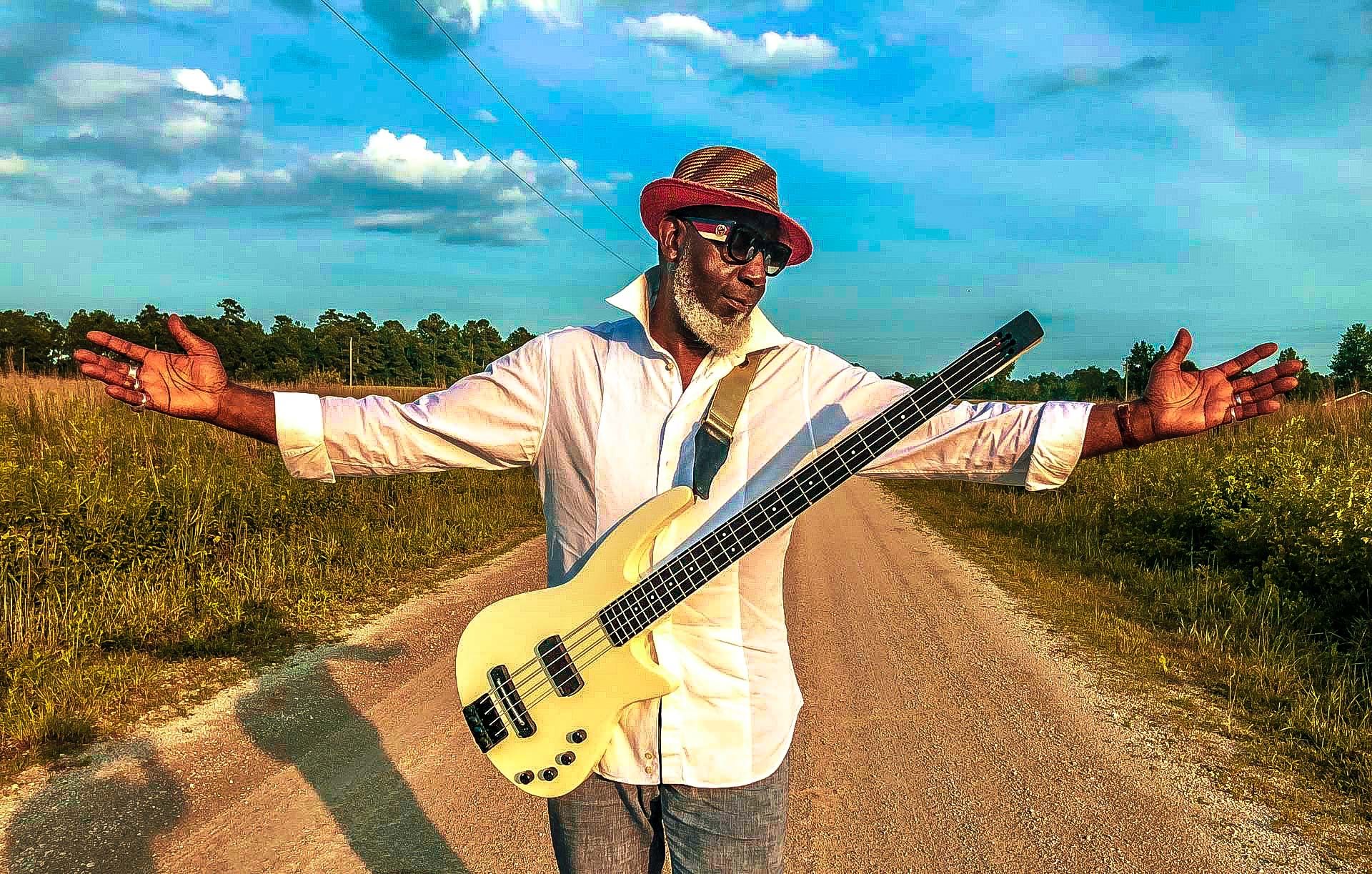 ####