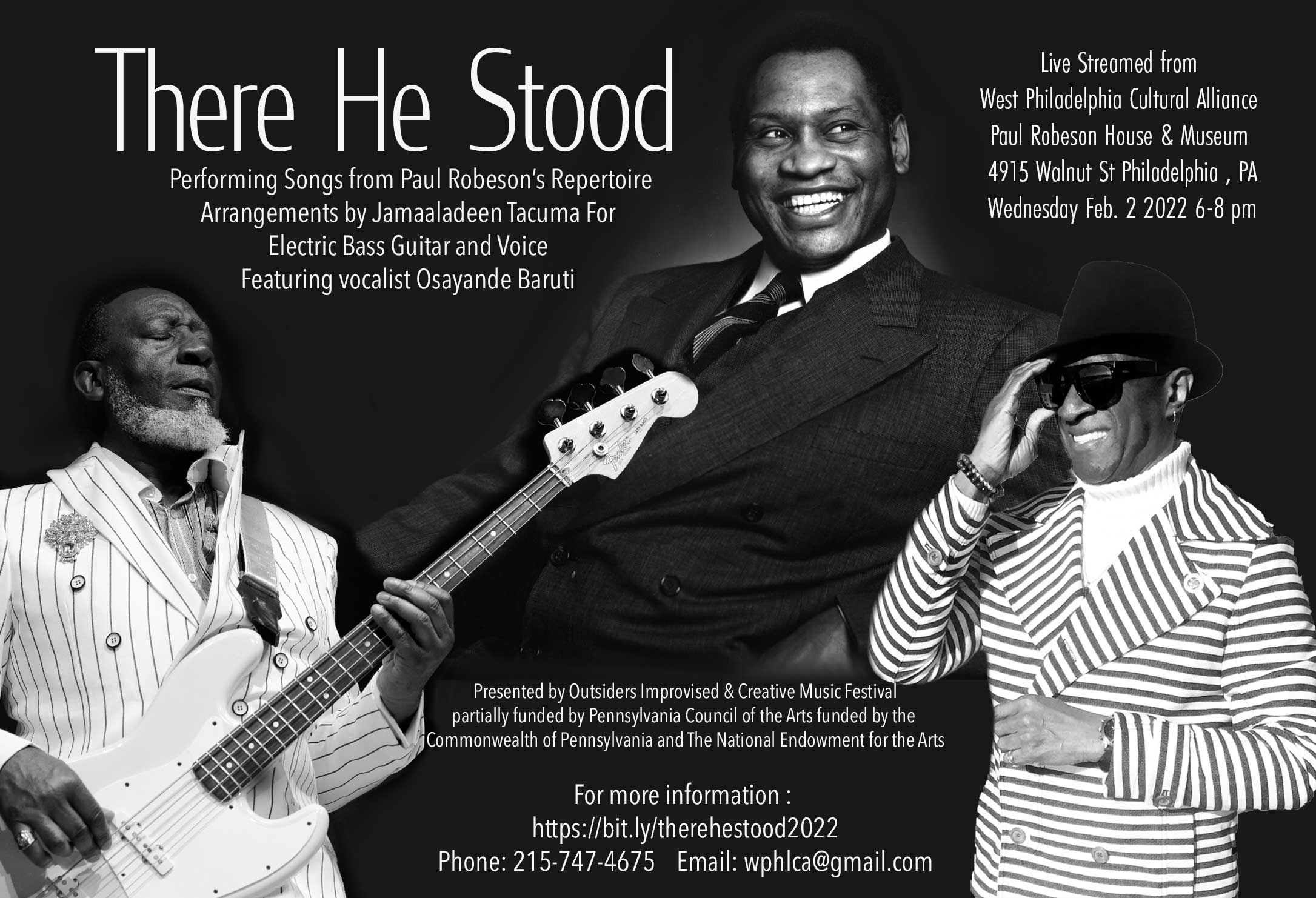 Celebrate Black History Month with Jamaaladeen Tacuma's  Renaissance Man Reloaded – A Tribute to Paul Robeson, Outsiders Improvised & Creative Music Festival first event  Jamaaladeen Tacuma's THERE HE STOOD featuring Osayande Baruti - A Tribute to Paul Robeson be Live Streamed worldwide 
JAMALADEEN TACUMA, considered one of the world's finest living bass players, is the driving force behind the Outsiders Festival, now in its 7th year. Renaissance Man Reloaded honors the legacy of bass baritone concert artist, stage and film actor, athlete, and activist Paul Robeson with two concerts of inspiring music, exploring a range between classical and jazz genres. This year's events also celebrate the return of the festival and the reopening of the Philadelphia Clef Club of Jazz and Performing Arts and The Paul Robeson House and Museum after disruptions from the pandemic. 
There He Stood at the Paul Robeson House & Museum / February 2, 2022 
The first event in the Outsiders Festival features a duet performance There He Stood by Tacuma on electric bass and electronics with performance artist baritone Osayande Baruti .The Live Streamed concert takes place at the historic Paul Robeson House in West Philadelphia for a limited invite only audience for members. An unlimited number of paid ticket passes are available on Eventbrite to access the live stream. The Purchased link will be available to view for 1 week . This intimate concert allows listeners to experience Jamaaladeen's extraordinary range, from delicate accompaniment supporting Baruti vocals to his thunderous poly-rhythmic virtuosity taking the listener through Paul Robeson's Song Book as never heard before. 
Live Stream Tickets available at Eventbrite Click Here
Funding Support 
Jamaaladeen Tacuma's There He Stood is presented by The Outsiders Improvised & Creative Music Festival and The West Philadelphia Cultural Alliance . This event is supported in part by the Pennsylvania Council on the Arts, a state agency funded by the Commonwealth of Pennsylvania and the National Endowment for the Arts, a federal agency. 
BIOS 
JAMALADEEN TACUMA has always stretched the mold of what and how a bassist is supposed to play. He has re-defined his instrument's artistic potential. In the 1970's, his creatively free approach to the bass caught the eye of saxophonist Ornette Coleman. Tacuma became a member of Coleman's Prime Time. He toured with and performed on some of Coleman's historic recordings : "Dancing In Your Head", "Body Meta", and "Of Human Feelings". Tacuma continued to press the musical envelope with his debut album in 1983 entitled "Showstopper" and  latest historical recordings "FOR THE LOVE OF ORNETTE" features Ornette Coleman and Bon Vivant with Free Form Funky Freqs is  a trio with Vernon Reid and G.Calvin Weston He has worked with diverse artists: Jeff Beck, Carlos Santana, Marc Ribot, Derek Bailey, Pharoah Sanders, Grover Washington Jr., Peter Murphy, The Roots among others. He has worked with orchestras led by Anthony Davis at Carnegie Hall. In 2019 Tacuma presented an Opera entitled "For The Love of Ornette" with arrangements by Marco Visconti Prasca in Modena Italy . He is  recognized for his artistic excellence worldwide with  the "PARALLEL CULTURE" AWARD 2009, Marcus Garvey Foundation 50th Anniversary Award 2011,  The Pew Fellowship in the Arts 2011 and the The Uptown Theater Hall of Fame Award.  He has received The MacDowell Colony, Headlands Center for the Arts and Civitella Ranieri residency fellowships, in 2017 he received The Club Club of Jazz Best Bassist Award, in 2018 he received the City of Philadelphia's Benny Golson Award, The Benny Golson Award includes a City proclamation and the Liberty Bell award - one of the highest honors from the City of Philadelphia . In 2020 he was awarded The Philadelphia Jazz Hero award by Jazz Journalist Association. He is a recipient of South Arts Creative Residency Grant 2021. Since 2015 Jamaaladeen presents the annual Outsiders Improvised & Creative Music Festival in Philadelphia and continues to tour, produce and record worldwide. 
OSAYANDE BARUTI's acting highlights began as a graduate of West Philadelphia's OVERBROOK HIGH SCHOOL which includes the savvy rock musical by JIM MORRISON of the DOORS entitled CELEBRATION OF THE LIZARD with BARUTI co-starring under Movie Stars BILLY ZANE & Diva GRACE JONES at Hollywood's Coronet Theatre plus the SD LYCEUM THEATER'S hit, Tony-nominated, Broadway musical  IT AIN'T NOTHIN' BUT THE BLUESstarring Grammy singer GREGORY PORTER,the sultry ELOISE LAWS and the show's Co-creator, the late, RON TAYLOR with BARUTI as featured lead role and choreographer! BARUTI has produced & starred for popular Venues in  NYC, CHICAGO, LAS VEGAS, LOS ANGELES, SAN DIEGO, VANCOUVER, HONOLULU, SHANGHAI & PHILADELPHIA'S Stage East Repertory, KOPIA Dinner House, Philadelphia Drama Guild & Royal Shakespeare Theatre of London! BARUTI was President of the proposed ATLANTIC CITY OUT OF AFRICA Hotel & Casino and Artistic Director for the famed THEATER OF UNIVERSAL IMAGES in Newark, New Jersey. OSAYANDE'S Creativity awards  include an ASCAP Composer award, 3 Los Angeles' DRAMALOGUE awards and a FULBRIGHT Scholarship IN DANCE! Since 1977, OSAYANDE has performed as the VOICE of our "Renaissance Man" PAUL ROBESON, when WHAT-FM Radio hired BARUTI to perform his One-Man Tribute to ROBESON on the 25thanniversary of his Career & Death in West Philadelphia where hundreds of PAUL'S Fans called-in to ask how ROBESON was still alive! Then, in the 1980's NYC, OSAYANDE meets a "stylized, Bassist extraordinaire" -JAMAALADEEN TACUMA- where the two young men forge a "BrotherShip" that will lead Both to PERFORM TOGETHER the Songs of "CITIZEN PAUL ROBESON"- at JAMAALADEEN'S NIGHT of the  NEW POWER Concert in America's hollowed CARNEGIE HALL! —Osayande Baruti, 12/10/21