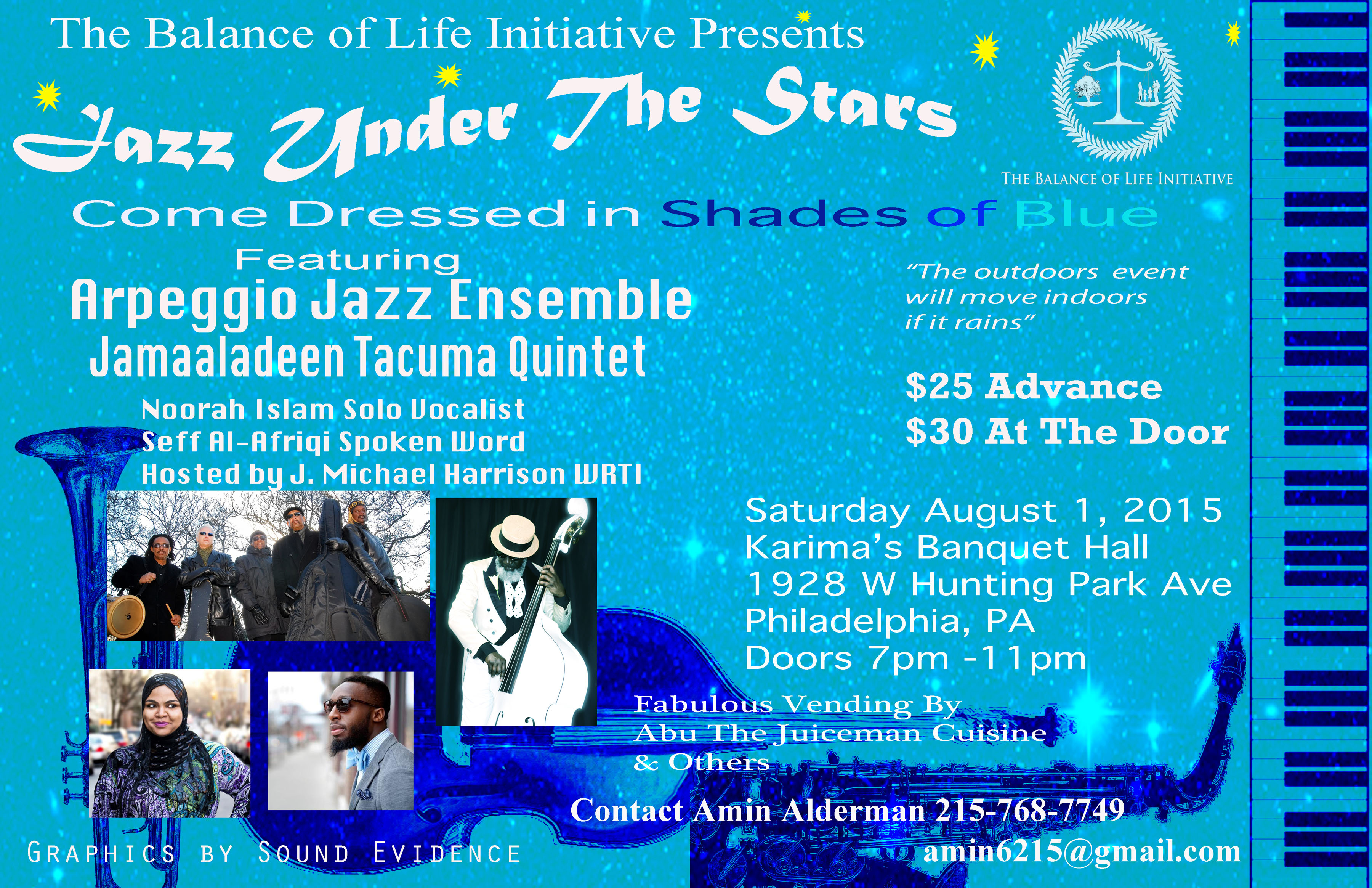 FOR IMMEDIATE RELEASE

Contact: Amin Alderman, Representative: The Balance of Life Initiative Phone: 215-768-7749
Email: amin6215@gmail.com

JAZZ UNDER THE STARS SHADES OF BLUE FEATURING THE ARPEGGIO JAZZ ENSEMBLE, JAMAALADEEN TACUMA QUINTET, SEFF AL-AFRIQI, NOORAH ISLAM, OUTDOORS CONCERT WITH VENDING ON SATURDAY AUGUST 1, 2015


Philadelphia PA – The Balance of Life Initiative is pleased to host this wonderful fundraising event of Jazz Under the Stars concert featuring The Arpeggio Jazz Ensemble, Jamaaladeen Tacuma Quintet, Seff Al-Afriqi Spoken Word, Noorah Islam Solo Vocalist, guests are asked to arrive dressed in "Shades of Blue" attire, Organic Cuisine by Abu the Juiceman available for purchase, and vending by Philadelphia's top artisanal merchandisers at Karima's Banquet Hall– Outside, 1928 West Hunting Park Ave, Philadelphia PA. Tickets are $25 and $35 and are available at the door or online via Paypal.

The Balance of Life Initiative is an organization created by Amin & Khadijah Alderman. It is designed to enhance the lives of those who have lost their loved ones, by promoting and supporting social activities that foster brotherhood and sisterhood. The residual effects of this organization's fund-raising will provide assistance to the community for grief counseling, pre-need counseling, wills and also partial financial assistance for those who can't afford the entire cost of a funeral service for their loved one. In addition we want to support efforts to stop the violence in our city and promote healthy youth activities.

The genesis of the ARPEGGIO JAZZ ENSEMBLE sound was created in 1979 by bassist Warren Oree. The group has become a permanent segment in the infinite collage of Jazz music. ARPEGGIO'S repertoire includes original and standard compositions. Everyone in the band composes which gives the group a versatile sound that appeals to a variety of audiences. Their music is flexible, ranging from soft, contemplative melodies to energetic, multirhythmic arrangements. It is not unusual for audiences to break out in dance in response to some of the pulsating beats issuing forth from the bandstand.

Jamaaladeen Tacuma is known for re-defining the electric bass sound. In the 1970's, his creatively free approach caught the ear of saxophonist Ornette Coleman, and Tacuma became a member of Coleman's ensemble Prime Time. Tacuma has since worked with diverse artists including Jeff Beck, Carlos Santana, Marc Ribot, Derek Bailey, Pharoah Sanders, Grover Washington Jr., Peter Murphy, and The Roots. He has worked with orchestras led by Anthony Davis at Carnegie Hall. His awards and accolades include the Parallel Culture Award (2009), the Marcus Garvey Foundation 50th Anniversary Award (2011), and a Pew Fellowship in the Arts (2011).

Youssef Kromah (aka Seff Al-Afriqi) is a writer, author, spoken word poet, dynamic speaker and powerhouse performer. Kromah has shared stages with some of the world's most remarkable talents and public figures. His resume includes names like Nikki Giovanni, Common, Talib Kweli, Mos Def, The Roots, Sanaa Lathan, Soledad O'Brein, Eve, Wale, Kim Coles, The Last Poets and countless others. Kromah has performed in venues all throughout the United States and abroad. His talents have taken him to stages in New York, Chicago, Hollywood, Latin America, North Africa, and Europe.

Noorah Islam is a Singer/Song Writer/Studio & Performance Artist/Public Speaker who creates & performs Inspirational Islamic music. Noorah exploded onto the Islamic Music scene with her debut album, Heart Of A Muslim, Volume 1, and has already made many strides towards creating a safe, open and encouraging space for Muslimahs and fellow female artists. Noorah is a self proclaimed non-conformist who believes Muslim women too should have a platform to perform, cultivate and showcase their talents as well as being able to be entertained within the confines of Islam. Noorah is the creator of 'The Pretty Hurts Tour' and Co-Founder of 'Summer White Tour'. *Noorah Islam is a major supporter of Muslim-owned and Women-owned businesses.