Jamaaladeen is pleased to announce the release of his latest recording ,
Pre Order
 Ship Date 2/23/2015
Legend of The Pipe and Sweater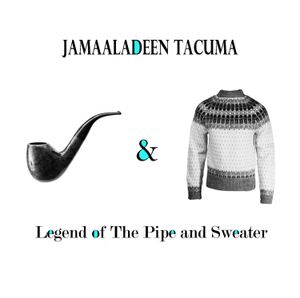 Recorded Live in in Denmark at Vallekilde  Summer Session (after hours).  While at Vallekidle Jamaaladeen's passion for the Danish Modern Design imagery was rekindled, surrounded by the architectural elements , furnishings and art design he has always embraced as an interior designer himself.   Joined by an enthusiastic creative group of Danish musicians along with these visual cues that inspired this spontaneous composing session and a celebration of the musical era when Danish musicians  began to explore free jazz during the 1960s, the classic imagined vision of these avant garde pioneers a classic Danish Pipe and a Sweater , the popular attire of the time. 
Jamaaladeen Tacuma's
Legend of The Pipe & Sweater
Jamaaladeen Tacuma: Electric Bass Guitar
Pelle Fridell:  Sound Manipulations
Ole Theil: Drums
Morten Siversen : Trumpet
Randi Pontoppidan: Voice/Electronics
Jens Jefsen: Upright Bass 
Martin Fabricius: Vibraphone